The peaceful protests of April 2018, against Nicaragua's social security reforms, have escalated into so much more. The dictator Daniel Ortega has since used brute force to take control of the country and is not taking any chances in the forthcoming elections. In this article, we will tell you about what is going on in Nicaragua.
Let's Start with the Upcoming Elections
The elections in Nicaragua take place on November 6th, 2021. Ortega has already shut down a number of universities, the Supreme Court, and the Electoral Commission. The United States have warned Nicaragua to not hold elections unless they comply with international standards of fairness and transparency. Nicaragua is now only accepting applications for public sector jobs that have been pre-approved by the government.
Ortega became president after the Sandinistas won the 1990 elections. In 2006, Ortega was re-elected with a more modest majority. Ortega claimed an electoral victory of 68%. However, 5 of the 6 presidential candidates refused to recognize the election, and only 9 of the 19 opposition members in congress accepted the results.
Ortega's election campaign has been accused of being fraudulent, with the government manipulating the electoral process to ensure victory. National assembly members have also reported that the voting was highly irregular and manipulative.
Many Nicaraguans have not had access to land for decades, and President Ortega's regime has effectively nationalized much of the land that was held by local families for generations. Currently, Ortega's family owns all the media in the country, as well as many key industries like energy, food supply, and gas.
Due to the forceful takeover of Nicaragua's institutions by the Ortega regime and their manipulation of Nicaraguan society, many legal and political systems in the country are corrupt.
All Formal Opposition Ended Up in Prison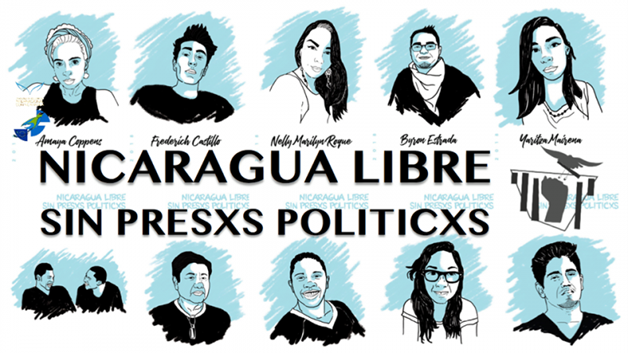 As of today, hundreds of people have been killed by the national Nicaraguan police and most opposition leaders have been imprisoned.
Felix Maradiaga, Cristiana Chamorro, Medardo Mairena, and Lester Aleman are among the opposition leaders that have been imprisoned by Ortega's regime to secure the upcoming elections.
The United States has said that Daniel Ortega is attempting to gain control of the electoral process to manipulate it, and therefore, for the sake of democracy, they are intervening with sanctions.
Read more in an article from the Guardian here.
April 18 Uprise and The Dictator's Deadly Crackdown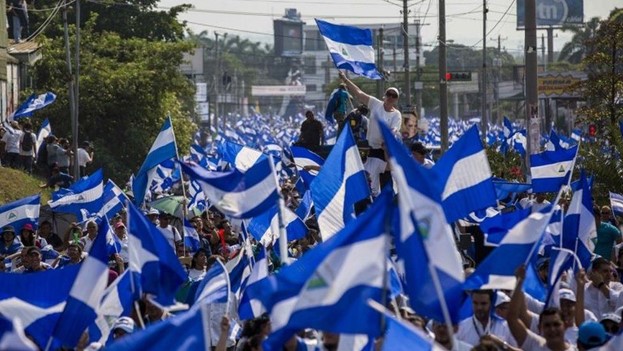 The crisis has led to many clashes between police and protesters, resulting in a sharp increase in casualties. Many civilians have been killed by the police during demonstrations, and journalists have been attacked by pro-government forces while working in their newsrooms.
All independent media in Nicaragua has been shut down and their reporters are now in prison or in exile. This is the case for 100% Noticias, Confidencial, and other major news outlets. Multiple countries are calling for Nicaragua to restore democratic order and halt the violence against civilians. The United States has imposed sanctions on key figures and urges other countries to do the same.
80% of the population of Nicaragua live below the poverty line, and Ortega's government have implemented a compulsory social welfare program that forces people to give up their land, allowing the government to build more housing. Refusal to comply can lead to a criminal record and jail time.
China, Russia, Venezuela, and Cuba are among the strongest allies of the Ortega regime. In the case of Venezuela, President Maduro is working closely with President Daniel Ortega to secure the drug trafficking passage to the United States.
Amnesty International has produced a report that you can find here.
What is the International Community Doing?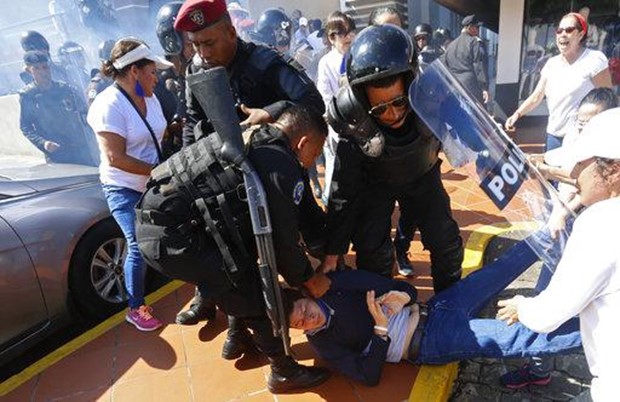 The UN High Commission on Human Rights have condemned Nicaragua's regime, stating that they are responsible for "the killing of protesters and human rights activists". The World's Humanitarian Affairs Office stated that they will support human rights organizations' efforts to return to Nicaragua with aid from neighboring countries.
The United States have imposed sanctions against several key individuals in the Ortega regime, including his wife and vice president, in the hope of de-escalating the systematic violence against pacific protestors and opposition leaders.
Canada has also imposed sanctions on Nicaragua, urging Daniel Ortega to step down. The United Nations has condemned the regime, as well as Mexico, Argentina, and Chile. The European Union is also involved in the condemnation of the Nicaragua regime.
The U.S., Canada, and EU have supported a resolution that allows no more than 6 months for the restoration of democratic order to Nicaragua, before further action will be taken. This resolution included sanctions against key individuals, such as Ortega's wife and vice president, who is also his closest adviser. These sanctions cut off their access to international finance and prohibit them from traveling outside of Nicaragua.
You can find more about the U.S. sanctions here.
What Can You Do to Help Nicaragua?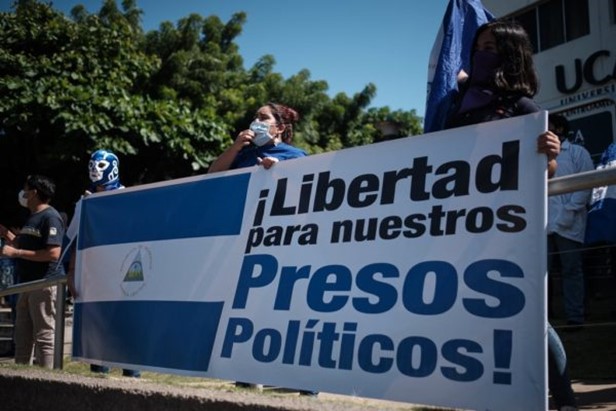 The solution to the crisis in Nicaragua is not simple, and much work is clearly needed to achieve a world where everyone feels safe.
But change is coming, and people from all corners of the world are uniting against discrimination, violence, environmental destruction, and lies. All of these voices demand freedom, and every day more people join the call.
We are talking about people that work tirelessly in their own free time to make a difference, using only the limited resources that are available to them. However, without a real commitment from society these issues will never be solved by brave individuals alone. Heroes such as these are the backbone of any society, and they deserve help with the heavy burdens that they carry. We should all support those who make such sacrifices on behalf of others every day.
There is a petition asking the European Union leadership to take action on this matter now, and if it gets enough signatures, the game could change.
By signing this petition, you are uniting your voice with the call for greater support and visibility for people that fight for the rights of all of us.
What Will Happen if We Do Not Sign?
The cost of lives is already too high. If you believe that these heroes deserve more than just a pat on their back or an empty promise from politicians, then please take action now and show how much we care about them!
Do you think a solution to this problem is possible? Let us know at blog@thehaguepeace.org