The Corona Care project aims to offer much needed help to vulnerable Nicaraguan citizens
This project provides crucial medical supplies, food, precautionary equipment, local support, and an reliable flow of accurate information to help counteract the spread of fake-news and minimize the ongoing impact of the Coronavirus.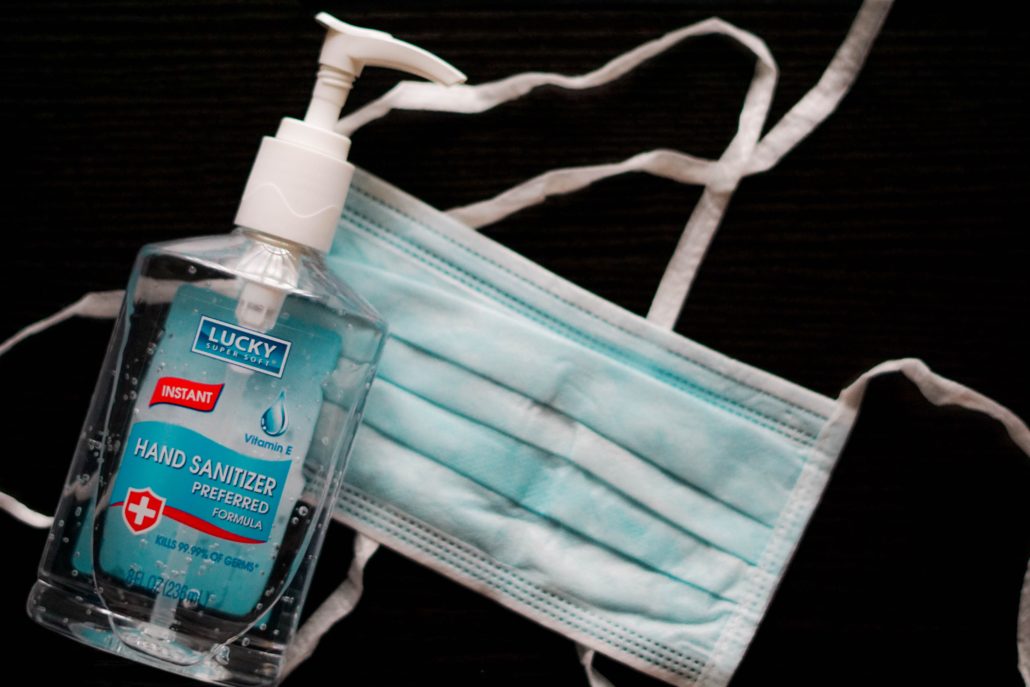 Corona Care
The Corona Care project aims to offer much needed help to vulnerable groups in Nicaragua by providing medical, hygiene, food, and cooking supplies, as well as basic protective equipment against the contagion and spreading of the Coronavirus.
By purchasing these supplies locally we support small, and medium-sized local businesses in Nicaragua.
The Corona Care project also supports Nicaraguan refugees in Costa Rica and Panama through the provision of specially designed 'Corona Care-Kits' which contain much needed resources that are scarce and in high demand.
Following research and extensive input from our refugee community and Nicaraguan project partners, we have established three main project components to help minimize the impact of the Coronavirus and its aftermath on vulnerable Nicaraguan citizens and exiles.
1. Humanitarian aid:
'Help for Nicaragua'
2. Corona Care-Kits:
'Help for refugees'
3. Media Campaign:
'Let's talk about COVID-19'
1. Humanitarian aid:
'Help for Nicaragua'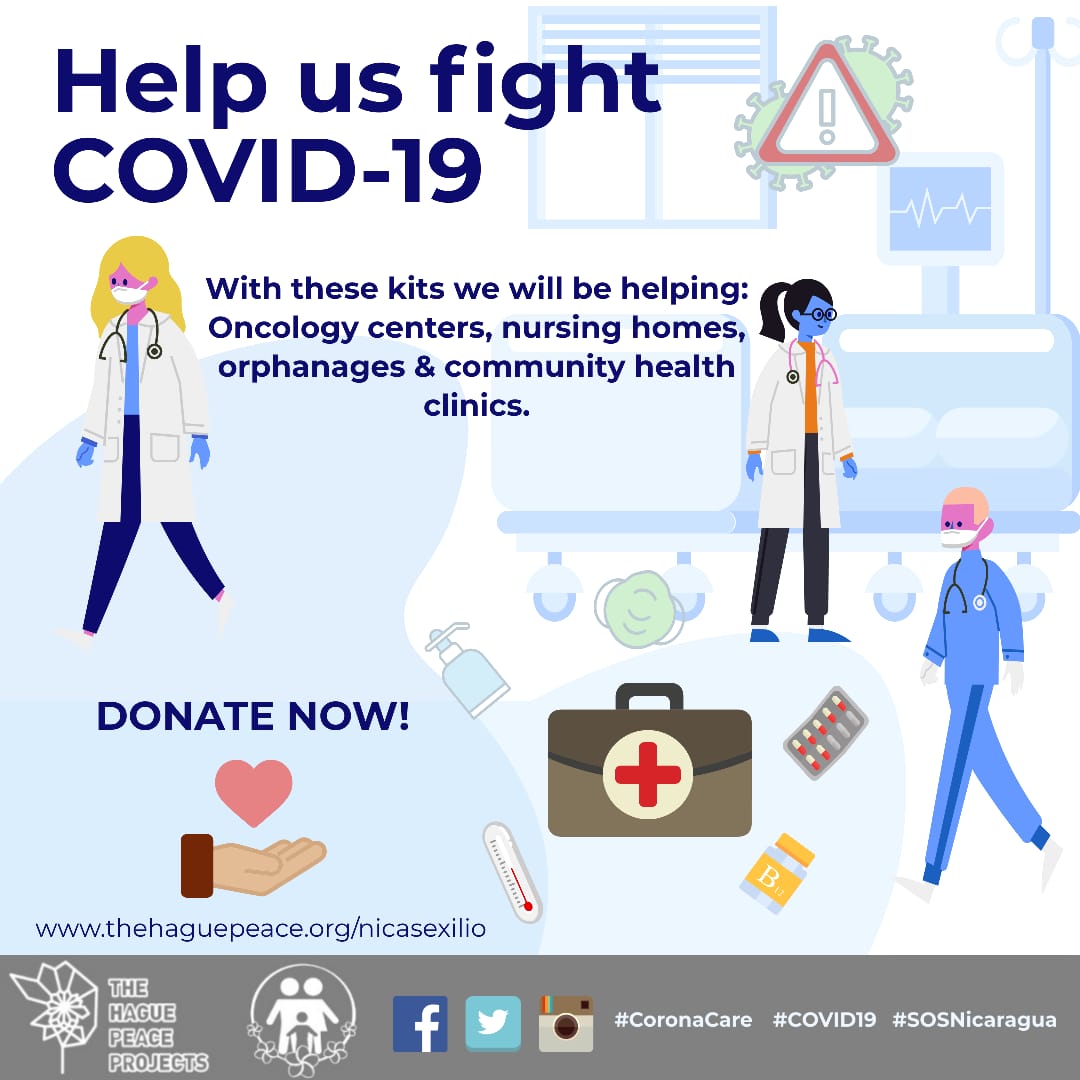 As a direct result of the public dismissal by the Nicaraguan government with regard to the severity of COVID-19, thousands of citizens continue to be needlessly exposed to the virus. The growing number of Coronavirus infections continues to spread alarm among the general population, with increasing anguish about the developing situation.
This part of the project is specifically targeted at Nicaragua and the provision of supplies and materials aimed at preventing and/or alleviating the impact of the Coronavirus. The Hague Peace Projects works closely with organizations throughout Nicaragua that are currently engaged in the main affected and high-risk areas of the country. Our project provides medical materials, cleaning supplies, and basic survival products to the organizations that directly represent the following vulnerable groups in these areas:
Nursing homes for the elderly
Orphanages
Oncology Centers
Community health clinics
 Funds collected support these organizations and the invaluable medical assistance provided by volunteer doctors in Nicaragua with the purchase of the following materials:
| | |
| --- | --- |
| Soluble serum and if possible intravenous | Jars of powdered milk with nutrients |
| Masks | Liquid alcohol |
| Alcohol gel | Disinfectant wipes |
| Thermometers | Surface disinfectant liquid |
| Basic grains | Cleaning Supplies |
| Vitamins | Nebulizers and masks |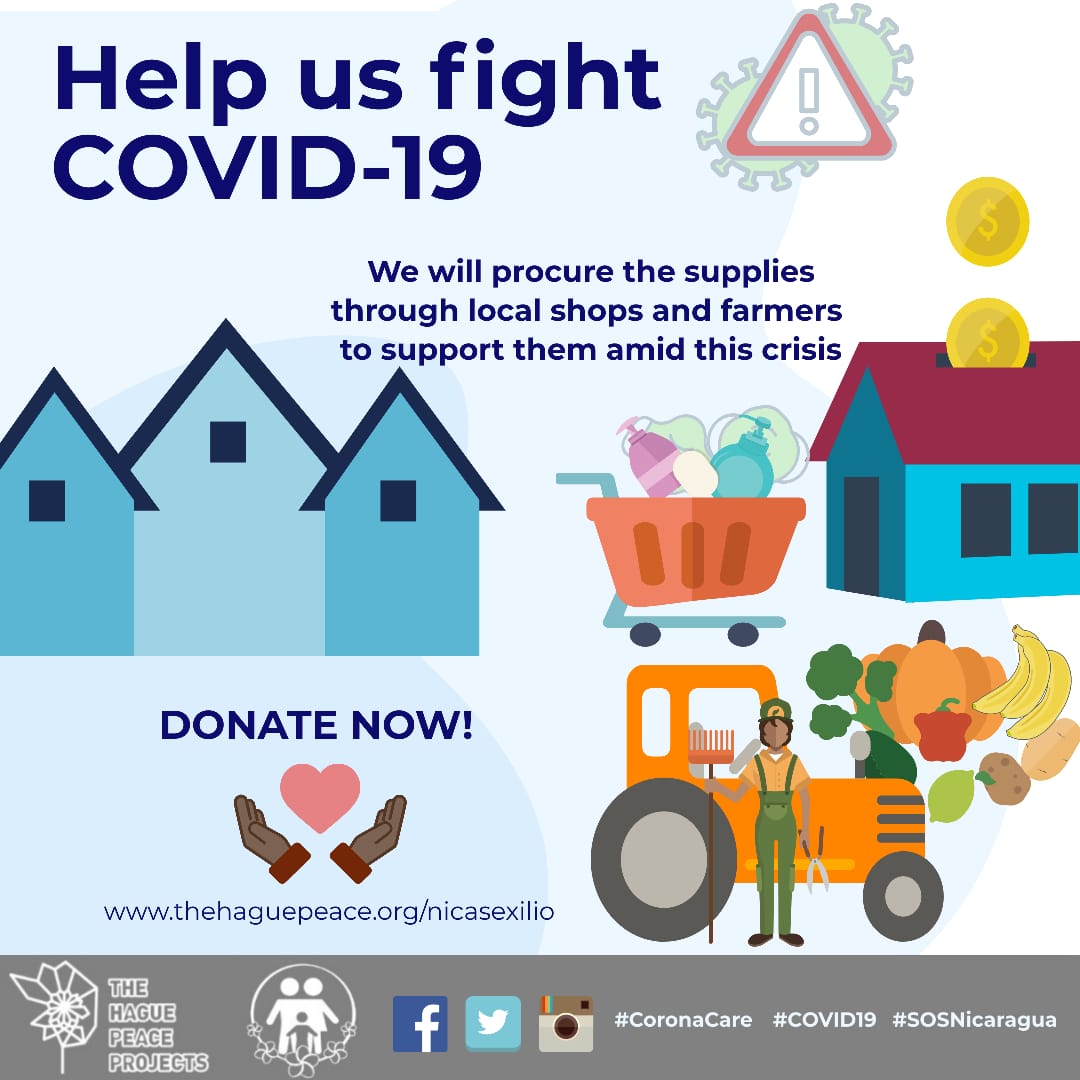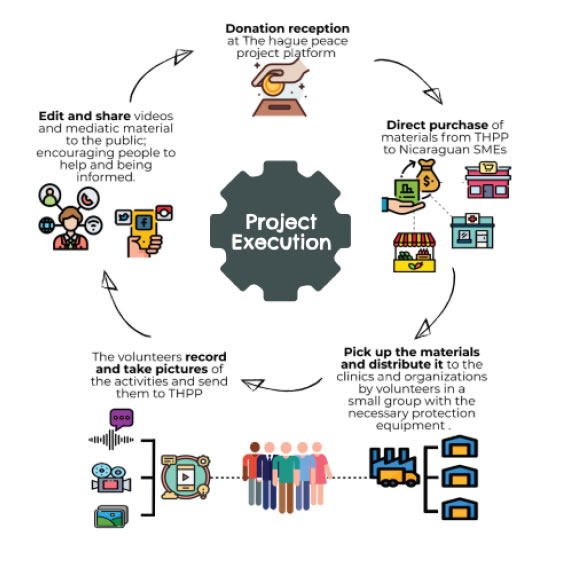 Supporting local business:
In an effort to support local businesses that are impacted by the virus, we will acquire our supplies from small and medium sized enterprises (SMEs) in Nicaragua. We continue to expand our list of collaborators and SMEs that are willing to work towards the success of this campaign.
Direct purchase from SMEs:
Farmers: basic grains
Organization of Volunteers: masks
Local stores: cleaning and alcohol supplies.
Local grocery stores: basic household items
Medical equipment supplies
Groups of volunteers: (minimal specifications):
Doctors and Paramedics: recognize and treat zones of infection / give small checkups to users and workers.
Nurses: give recommendations to users and workers.
Volunteers: responsible for recording activities
Volunteers: responsible for the collection of data
2. Corona Care-Kits:
'Help for refugees'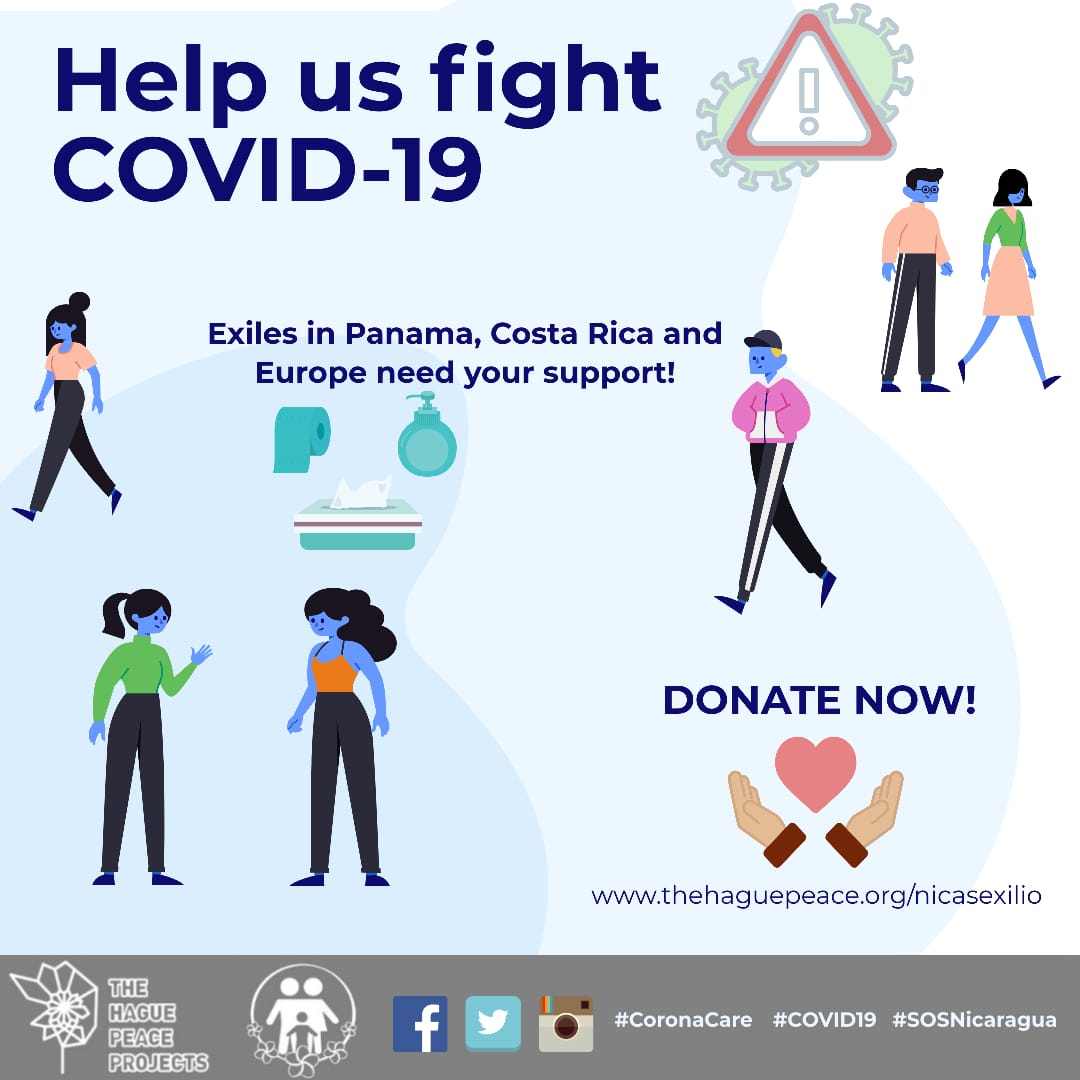 The global Coronavirus pandemic has compounded years of repression and neglect under the authoritarian Nicaraguan government, creating an especially challenging situation for Nicaraguans citizens both at home and abroad. Many of these challenges persist and intensify for Nicaraguan asylum seekers who fall victim to the very limited resources that they have at their disposal. Our project provides assistance in the form of supplementary supplies and medical equipment which are scarce and in high demand among these groups.
Scope of Corona Care-Kits:
Our scope targets Nicaraguan refugees in the following countries:
• Costa Rica
• Panama
The composition of the Corona Care-Kits vary between countries to accommodate their specific needs and challenges.
Costa Rica:
As the country with the largest concentration of Nicaraguan exiles, Costa Rica currently hosts two-thirds of all Nicaraguan refugees and asylum seekers, a total of 77,000 people, with an estimated 15,000 unregistered Nicaraguan exiles who lack legal documents, living under precarious and dangerous conditions. With our limited (and voluntary) funding to date, we have thus far delivered 750 Corona Care-Kits to directly support these groups in Costa Rica.
| | | |
| --- | --- | --- |
|   Basic Food Supplies | Unit Costs ($) | Costs per 100 units ($) |
|   Rice "Tío Pelón azul 80%" /1.8 kg | 1.97 | 197.21 |
|   Oil "Mr Máxico Económico"/ 500 ml | 1.05 | 104.71 |
|   Beans "Don Mario negro"/ 800 gr | 1.40 | 139.62 |
|   Sugar/ 2 kg | 2.23 | 223.39 |
|   Corn flour "Maseca"/ 750 gr | 1.80 | 179.76 |
|   Salt "Diamante"/ 500 gr | 0.33 | 33.16 |
|   Sub total1 | 8.78 | 877.85 |
| | | |
| --- | --- | --- |
|   Basic Medical Supplies | Quantity | Costs per 100 units ($) |
|   Alcohol Gel | 7 Gallons | 230 |
|   Alcohol 80% | 7 Gallons | 164 |
|   Gloves | 2 boxes of 50x | 18 |
|   Masks | Box of 25x | 278 |
|   Liquid Soap | 7 Gallons | 18 |
|   Surface Disinfectant | 7 Gallons | 12 |
|   Sub total2 | | 720 |
|   Total | | 1597.85 |
Panama:
Over 8,000 Nicaraguan refugees have fled to Panama making it the third largest destination for these asylum seekers outside of Costa Rica (77,000) and Europe (9000).
The following table is a summary of the costs for 100 specially designed Corona Care-Kits for Nicaraguan asylum seekers in Panama:
| | | |
| --- | --- | --- |
|   Supplies | Unit Cost ($) | Costs per 1000 units ($) |
| 5 pounds of rice | 2.85 | |
| 1 pound of sugar | 1.10 | |
|   1 bottle vegetable oil | 1.60 | |
| 2 cans of "Jamonilla" | 2.50 | |
| 2 cans of sardines | 1.15 | |
| 2 packages of pasta | 1.45 | |
| 1 pound of salt | 0.60 | |
| 1 package oatmeal/creamed corn | 0.80 | |
| 1 litre of long-life milk | 1.65 | |
| 2 pounds of red beans | 2.30 | |
| 1 pounds of lentils | 1.00 | |
| 1 loaf of bread | 1.60 | |
| Soap | 1.15 | |
| Toilet paper | 0.80 | |
| Bath soap | 1.45 | |
| | | |
|   Total | 22.00 | 2200.00 |
3. Media Campaign:
'Let's talk about COVID-19'