Don't be ashamed of your story – it will help others
Be Humane First Movement, a collaboration partner of the Bangladesh Workgroup at The Hague Peace Projects, recently started its campaign on the prevention of sexual violence. Md. Sayem Hossain, volunteer of the movement shares his thoughts on the campaign:
Humane First Movement is running its current campaign on the prevention of rape and sexual violence against women, and I would like to share my personal views as a committed supporter of this movement.
Rape is a curse to any civilized society and social disease of the highest order. If we claim to be civilized individuals, then we must also acknowledge that this curse is widespread in our society today. However, are we realizing the depth of the problem? Often when an incident of rape happens, society looks for ways to justify the incident, indirectly siding with the rapist by pointing out the victim's dress style, behavior, personal issues, lifestyle, etc. Is this the behaviour of civilized human beings? In our society, socially powerful rapists are eventually released, and roam freely only to commit more rapes. On the other hand, rape victims are cast out and ostracized by society. In some cases the victim is unable to cope with the ensuing insults and social harassment and commits suicide, leaving behind family members with no other choice but to helplessly shed tears and long for divine justice. This is because the state often fails in ensuring justice, or the legal procedure is so slow that the victims and their families often lose hope of receiving it. We have witnessed how little Ayesha Moni's mother was the lone warrior in this fight for justice. Can we really call ourselves civilized in a society where people have to resort to widespread protests every time to seek justice for rape crimes?
I would also like to share my frustration about another aspect; we shy away from calling out on a rape incident if the victim is a boy or a man. Why do we have such a narrow mindset? Rape is always rape, no matter to whom it or where it happens.
We need to remember one thing- when we overlook a crime or justify it in many ways, then we are not safe from that crime. In a society where records are not set straight through exemplary punishments for heinous crimes, it encourages the frequent repetition of these crimes. This is something that is now evident in our society as rape incidents are becoming a regular phenomenon.
If you belong to the powerful section of society, you may assume that you are free from danger. But you need to remember that your power and privileges may not last forever. Today your family might be safe, but do you have any guarantee for the future? So please be aware. When you make your closest ones aware, then they will do the same, and in this way we can spread awareness in our society.
If you raise your voice against an incident of sexual violence/abuse in the street, or in the workplace or an educational institute, you will see that others will also raise their voice. Please teach your children how to differentiate between "good touch" and "bad touch". Be the safe space for your children so that they can share if something unwanted happens to them.
So let us begin with changing ourselves. Let us put an end to rape and all forms of sexual violence and abuse. We do not want to see more sufferers.
Let us begin now!
Note: Bengali version of this article was published by Sangbad24. Bangladesh team-HPP obtained permission to publish the translated version.
Reading Tip:
Preventing and Addressing
Sexual and Gender-Based
Violence in Places of
Deprivation of Liberty – OSCE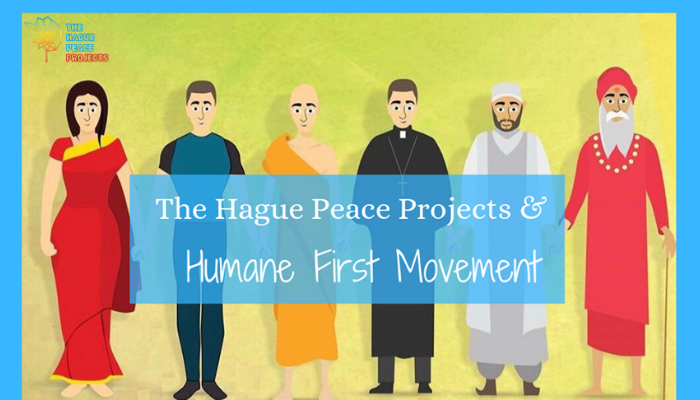 Bangladesh Workgroup Signs MOU with Humane First Movement
The Bangladesh Workgroup at the Hague Peace Projects has signed a Memorandum of Understanding with Humane First Movement which is an initiative to promote interfaith harmony in Bangladesh.
The MOU was signed by Jakob De Jonge, Director of the Hague Peace Projects and Ajanta Deb
Roy, the founder of the movement.
As per the MOU, Humane First Movement and Bangladesh Workgroup of the Hague Peace Projects will work together as advocates on social cohesion and work on the issue of fostering social cohesion in Bangladesh and among Bangladeshi diaspora in Europe and work on expanding the movement beyond the context of Bangladesh. 
Humane First Movement, which aims achieving social harmony in Bangladesh, is promoting messages of humanism and social cohesion through social media campaigning and storytelling; sharing messages of harmony and real-life stories of people from all walks of life which emphasizes on the importance of being humane and co-exist respectfully by practicing tolerance.
More information on the movement:
https://www.facebook.com/HumaneFirst/videos/551162451929516/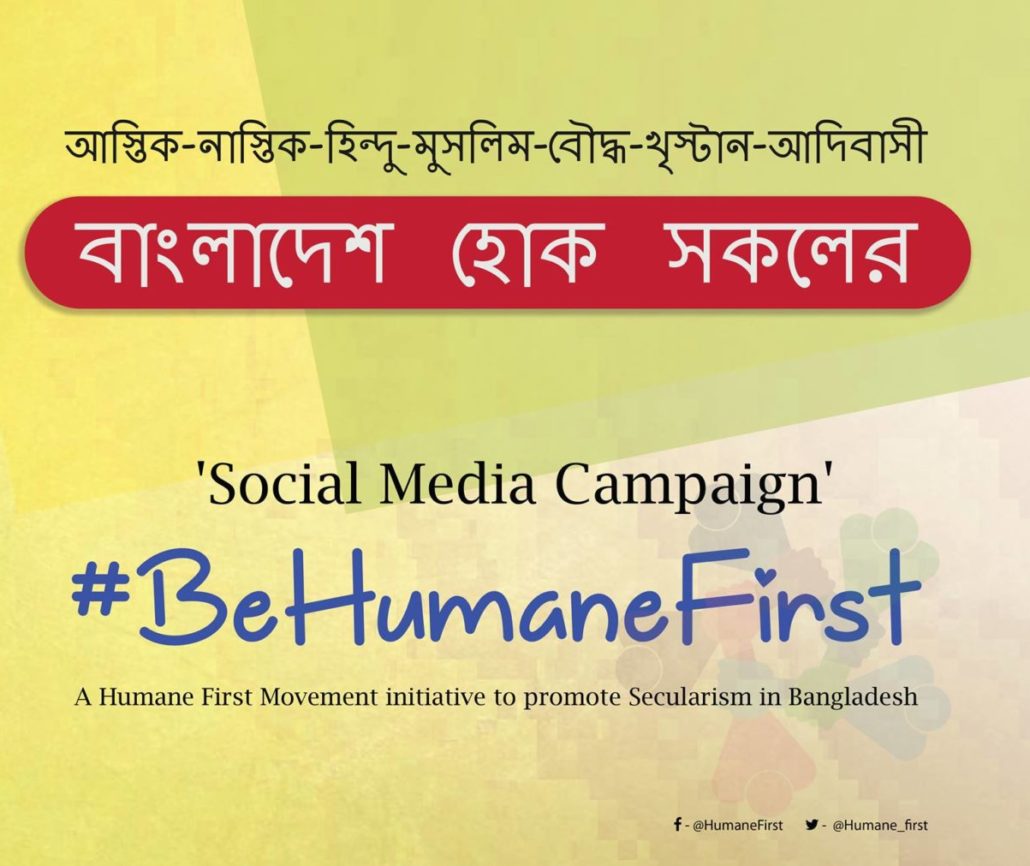 In Bangladesh, Facebook has emerged as one of the important political platforms in cyberspace. Parliamentarians, secularists, and religious extremists – everyone resorts to expressing their ideologies through Facebook. The religious extremists have been quite active and managed to instigate communal violence on several occasions, by preaching hatred, creating fake identities or hacking profiles of individuals and impersonating them.
Given this scenario, Humane First Movement, an undertaking largely based on cyberspace, has emerged as a strategic rebuttal to the growing religious fundamentalism & extremism in Bangladesh. The movement was founded by Ajanta Deb Roy, who is a prominent social media activist on issues of politics, religious fundamentalism, racism and human rights.The movement uses social media to spread the message of harmony and peace, and shares inspiring inter-faith harmony stories of individuals from different walks of life.
We, The Hague Peace Projects, have entered a memorandum of understanding (MoU) with the movement last year. The goal of the collaboration is to promote social cohesion in Bangladesh, by highlighting some aspects of the movement which we believe are important for individuals and organizations working on peacebuilding; particularly in the areas of initiating dialogues between communities in conflict.
First and foremost, the movement is based online which is crucial given how Facebook is utilized in Bangladesh and among politically active Bangladeshi diaspora. The intention of the movement lies in promoting humanity above all, and it has been doing so quite well for a couple of years now, despite the challenges the movement continues to face.
Another impressive aspect of the movement lies in uplifting class barriers within the movement. Many a times, class barriers play a major role in political movements and only the privileged individuals from a society are given the opportunity to raise their voices. They are delegated the role of "voice of the community". However, other individuals with equal amounts of drive and determination may not get a chance to express themselves or be assigned equally important roles. However, as we have been observing this movement closely and have been part of their campaigns on a few occasions, we noticed how the prerequisite for playing leading roles in the campaigns is equal to commitment and determination. The movement comprises of individuals from different walks of life, who may or may not be residing in Bangladesh. This is quite impressive in the context of Bangladesh, where privilege often shapes one's position within socio-political movements and the way class barriers influence social dynamics.
The movement has a long way to go, but given how they are active and passionate, they have the potential to contribute profoundly towards making Bangladeshi society more inclusive and reducing social fragmentation and religious extremism. However, in order to do that, the movement needs allies – they require support on an international level. At The Hague Peace Projects, we are committed to work with them and provide a platform which enables them to address their concerns and challenges.
Mass reporting by extremists have been used against this movement to silence their voices. And this phenomenon is not unique to this case; mass reporting on social media has become a common way to suppress voices to dissent and is something that needs to be resolved to protect the freedom of speech and to make the process of promoting human rights and peace a little easier. As it is, the task of promoting peace and human rights is full of challenges and pitfalls all over the world.
Despite all the challenges, the movement acts as a harbinger of hope to reduce social fragmentation in Bangladesh. And it is for this reason, they deserve all the support they need from the international community of peace and justice.
To know more about Humane First Movement, you can follow them on Facebook: https://www.facebook.com/HumaneFirst/
You can also look them up using the following hashtags:
#BeHumaneFirst, #StandUnitedAgainstHatred, #KeepReligionOutofPolitics
#BeHumaneFirst in a nutshell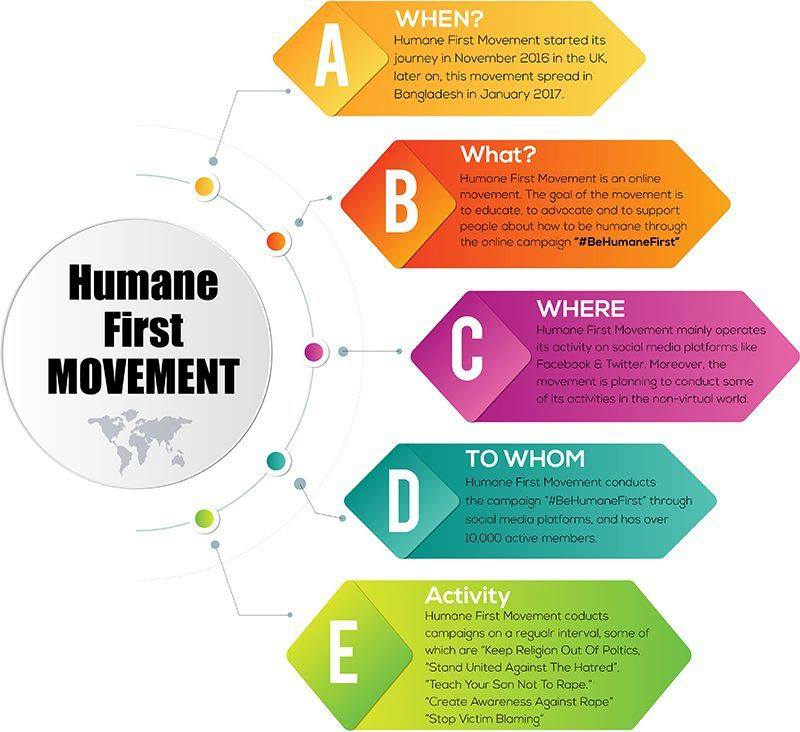 (Info-graphic prepared by Sayem Hossain, a member of the movement)