A Call to Support Civil Society at The World Forum for Democracy 2022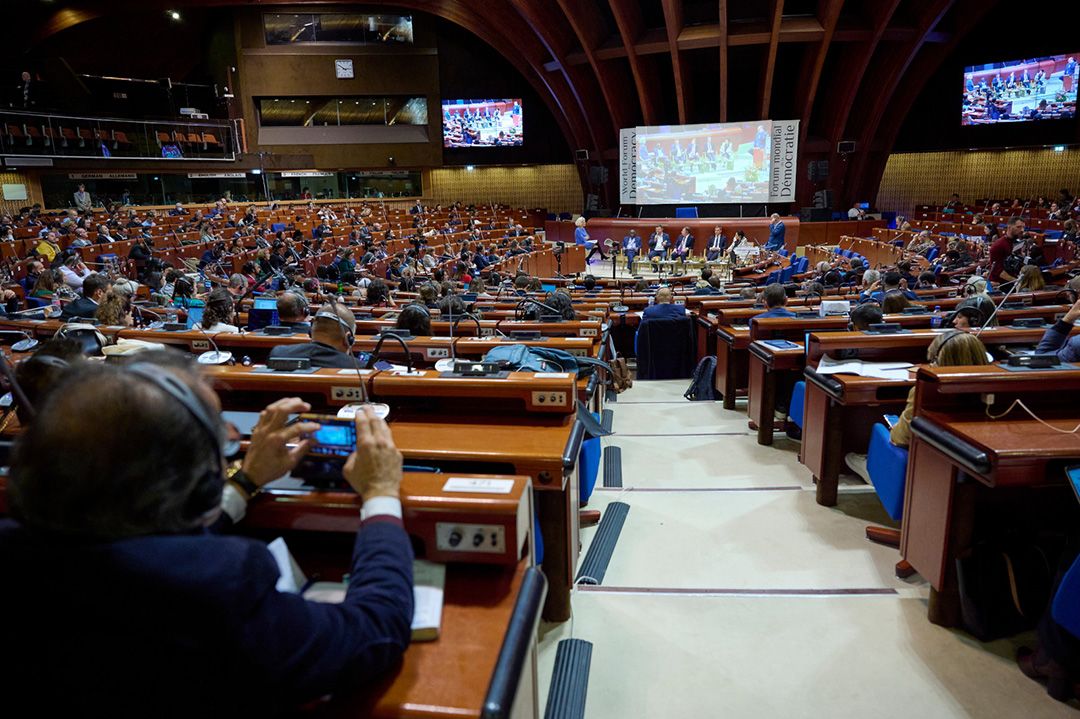 PHOTO © PASCAL BASTIEN – Courtesy of WFD 2022
Democracy is having a hard time. As its promises and values continue to conflict with a privileged appetite for profit maximsation, there is legitimate concern that it is slipping away.
In the summer of 2022, The World Forum for Democracy called out to the world's NGOs to submit their projects and ideas to tackle global democratic backsliding.
Out of over 400 submissions, a selection of initiatives were invited to present and discuss their democracy-saving plans at the upcoming World Forum for Democracy in Strasbourg. The name of the event, 'Democracy: A New Hope?', left little doubt about what the council of Europe would be talking about.
We were honoured to be selected and on the 8th of November 2022, The Hague Peace Projects presented their Changemakers Program.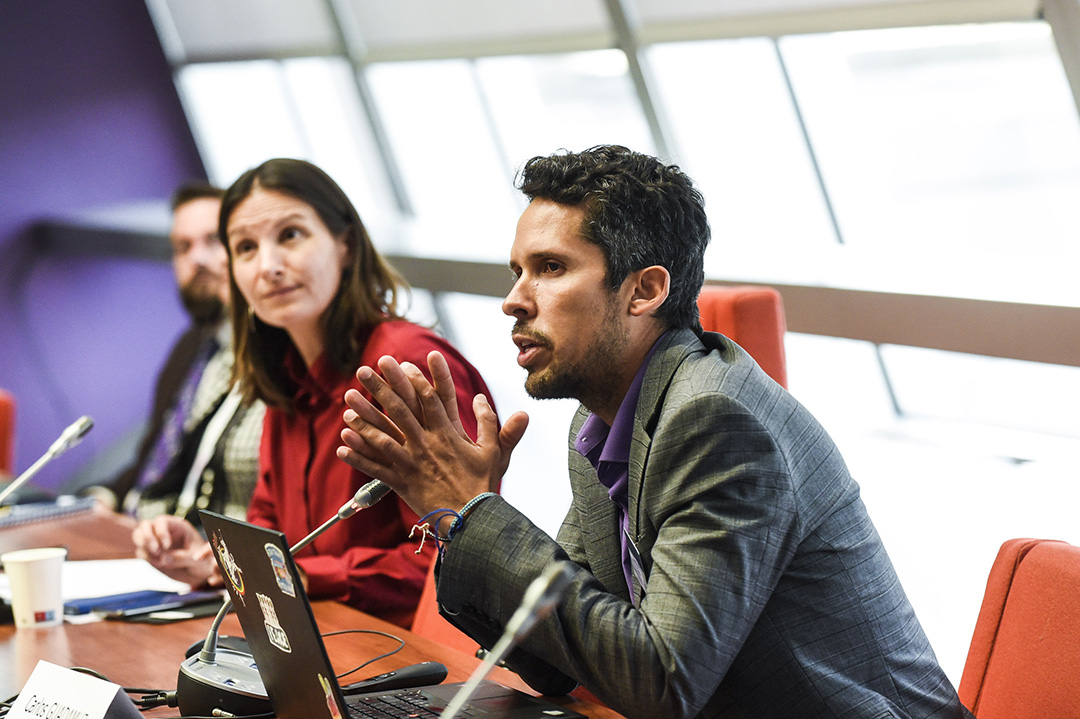 Chale Guadamuz presents at The World Forum for Democracy 2022 (PHOTO © PASCAL BASTIEN – Courtesy of WFD 2022)
Carlos 'Chale' Guadamuz, director of The Hague Peace Projects, introduced himself as the proud owner of the most important-but worst-paid-job he had ever had: a defender of human rights and democracy.
He stood before the 10th World Forum for Democracy as a voice for all of those fighting for democracy and its values, regardless of which corner of the world they call home.
He spoke on behalf of people you don't know, yet lead the fight in communities around the world for freedom and against intolerance, impunity, abuses of power, and the dangers of authoritarian rule.
The speech was important and emotional, almost causing Benjie Aquino-youth delegate of the Philippines-to tear up when it was his turn to follow. With so many stories of tragedy and bravery that deserve more, your mind boggles when you hear too many. Surely their solutions must be complex?
Chale's message was simple though. The Changemakers Program supports and empowers the good work that is already being done. In real terms, this means giving money and support to members of civil society who are actively defending democracy today.
Members of society we call Changemakers.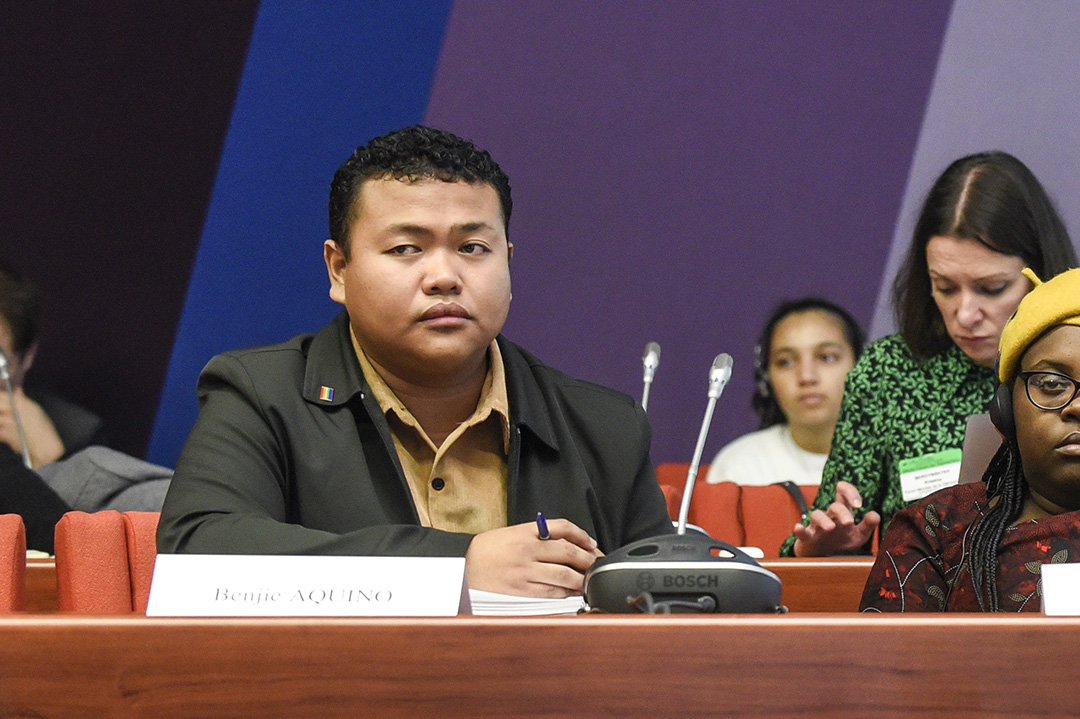 PHOTO © PASCAL BASTIEN – Courtesy of WFD 2022
Unfortunately, the civic space in which Changemakers work is being targeted and attacked, instead of supported and protected.
Over the past decades, the UN Declaration for the protection of Human Rights Defenders and civil society has seen a flagrant disrespect by many countries.
For many, it has become a dangerous occupation to stand for and lead positive change. These activities cost significant time and money, and it can be no surprise when human rights defenders are forced to give up this work in order to sustain themselves financially.
The high risks that human rights defenders contend with is all too evident and on the rise. Their work is not only getting more dangerous, but their ability to function is unsustainable without basic support from those who can give it. 
As a result, civil society actors who we should cherish the most are forced to stop their human rights work every day.
That.. is the sound of democracy losing.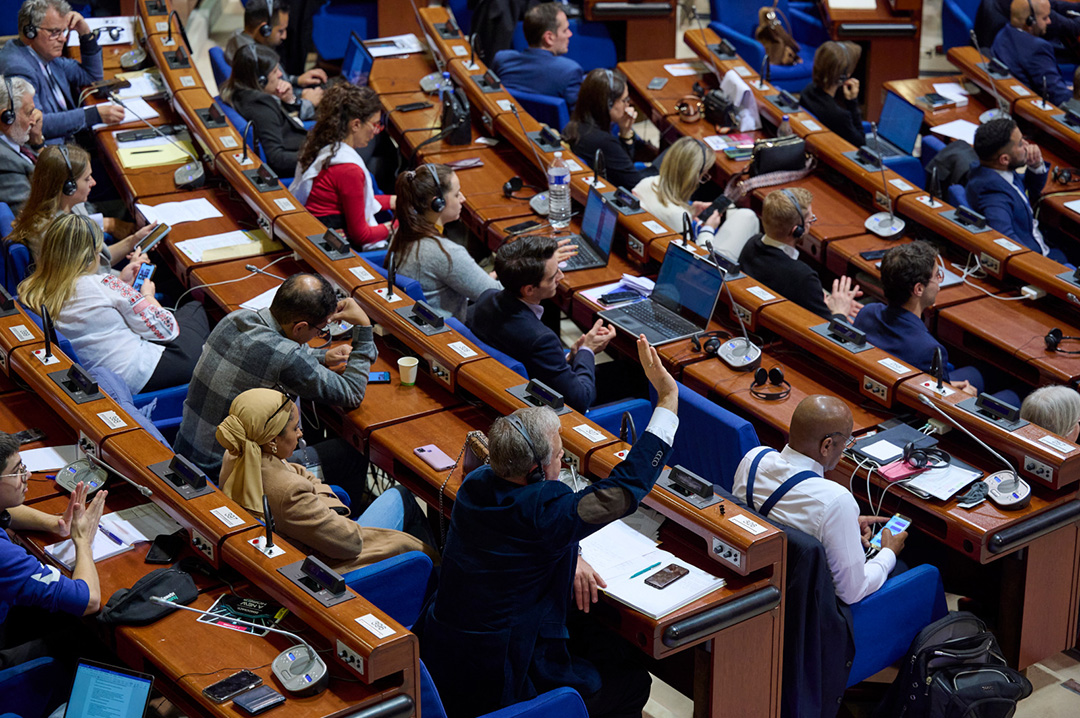 PHOTO © PASCAL BASTIEN – Courtesy of WFD 2022
The global military expenditure figures presented during the speech left no room for doubt that the money we actually spend on peace is comparatively non-existent.
The total expenditure on grassroot peacebuilding support in the world is approximately 0.001% of our global military budget. The total amount we spend on peacekeeping is not much better at 0.3%.
There is clearly more room for funding when it comes to supporting grassroot defenders of peace and democracy.
The Changemakers Program addresses the need for the creation of economic value for activities which we collectively want to sustain and reward.
It would seem simply a matter of priorities, but with so many complex problems being addressed at the Forum, no one actually managed to address the elephant in the room.
Why are the most important jobs in the world so often the worst paid?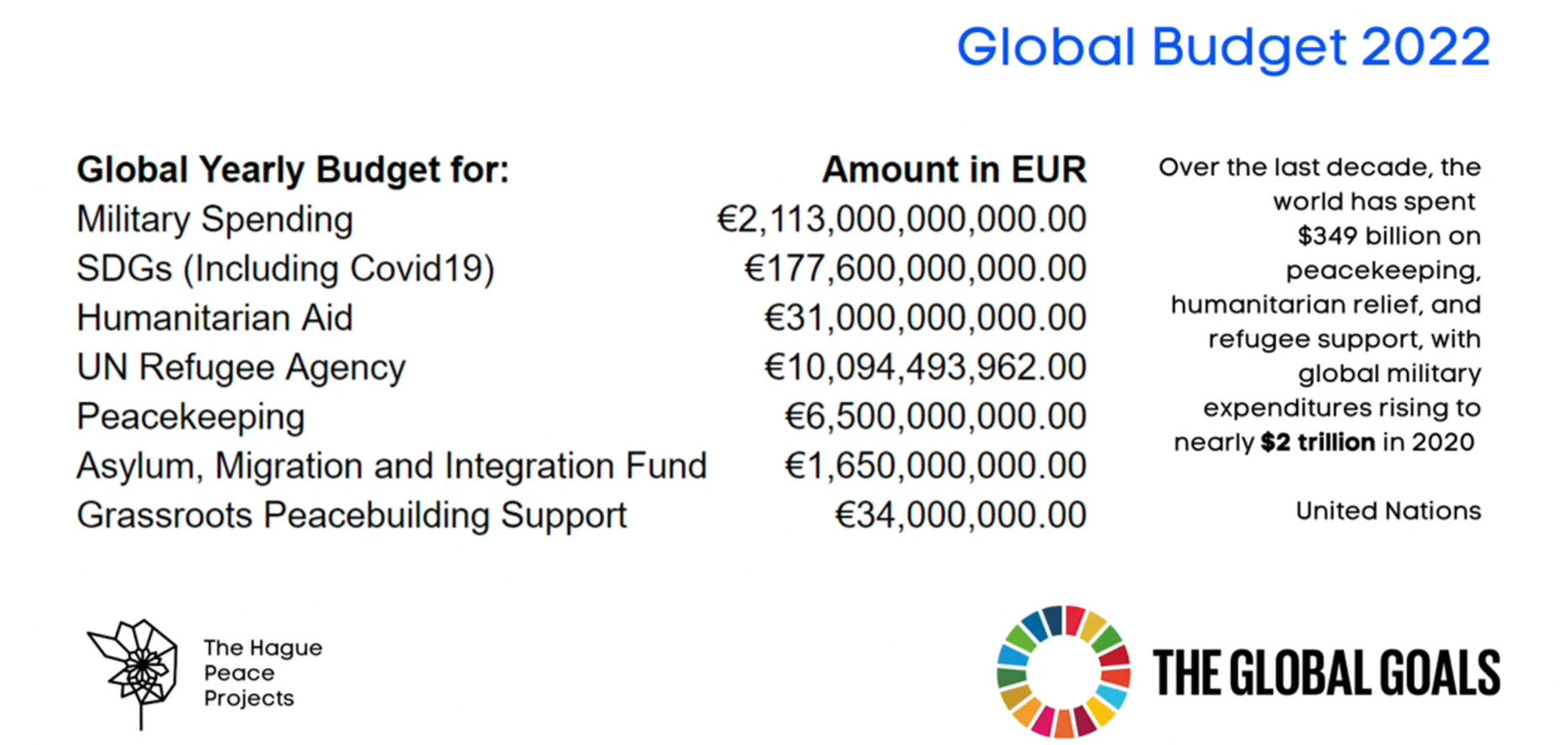 Figure: Global Yearly Budget figures – source United Nations
In light of today's capitalism the answer shouldn't seem that strange. Private wealth maximization, whichever form it takes, is no guarantee for our best interests. Those mechanisms dance to the tune of another vision.
Our society deserves a claim to our actual interests. If we are to determine our own work and freedoms, we must invest in civil society. We need to invest in democracy.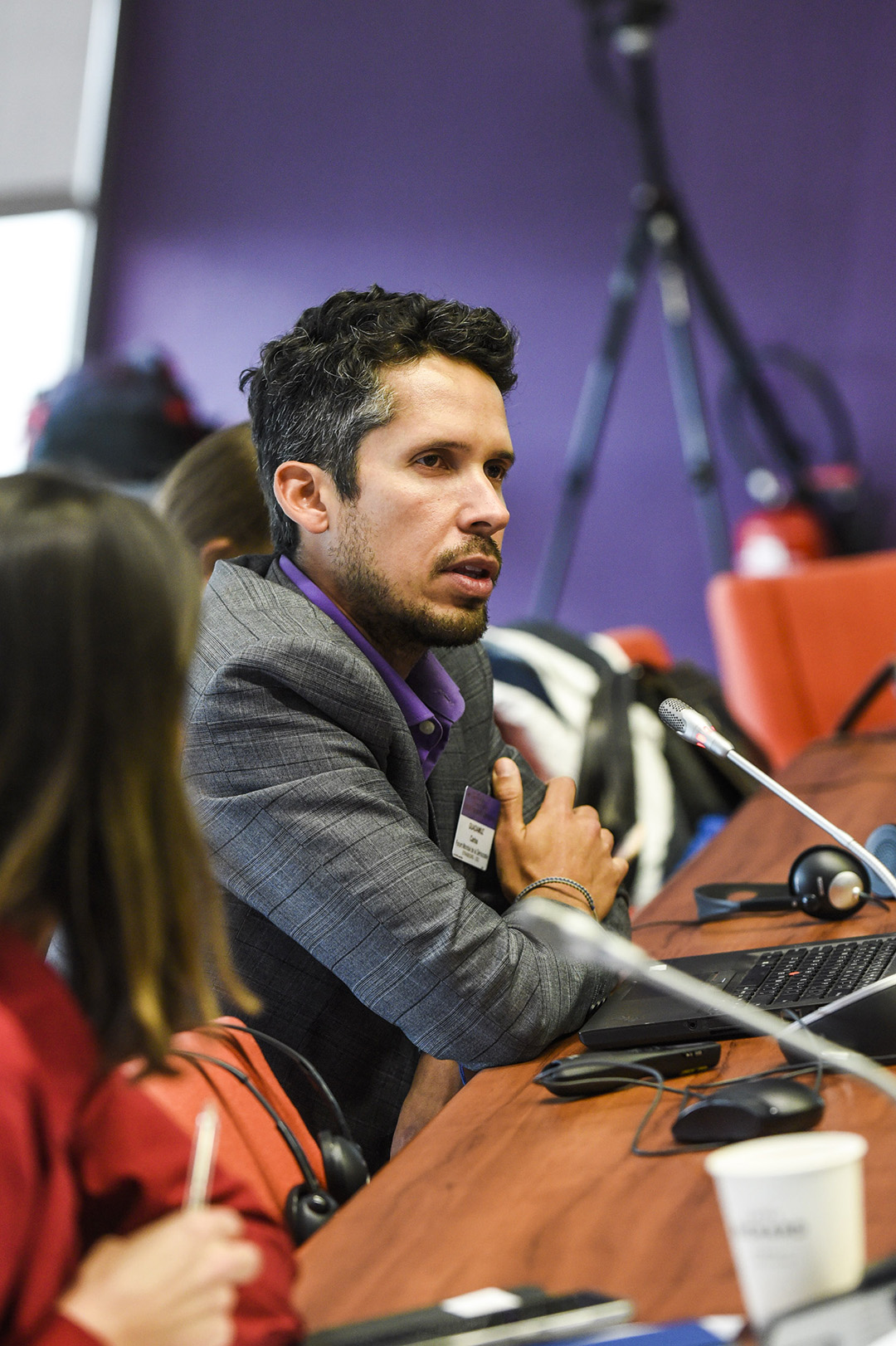 PHOTO © PASCAL BASTIEN – Courtesy of WFD 2022
Aside from its practical support modules, this is what lies at the heart of the Changemakers Program – an attempt to reward our grassroot democratic activities. To reward the role that we, as active citizens, can play in shaping our own future.
(Note: Lab 2 at the Forum was about providing civic education to understand this role – The Changemakers Program is about sustaining the activities of those actively engaged in it).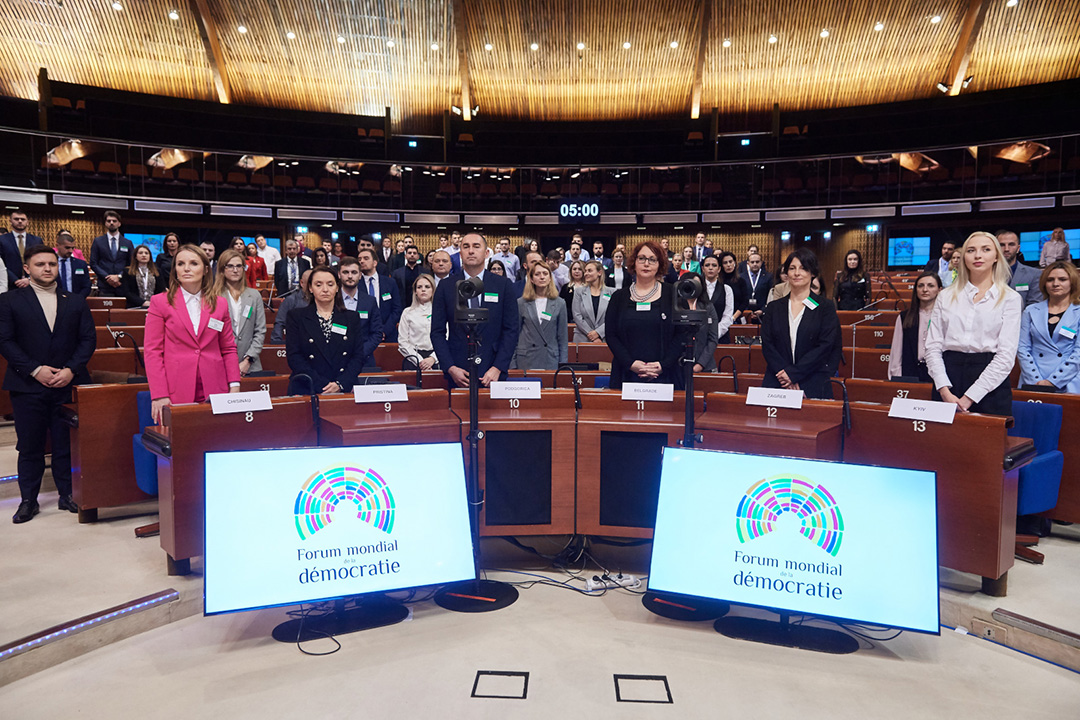 PHOTO © PASCAL BASTIEN – Courtesy of WFD 2022
This means a greater commitment by our governments and institutions to economically reward social welfare maximization activities as opposed to the sole facilitation of private revenue maximization activities.
The Changemakers Program makes an effort in this direction by plighting for income support for its participants. It argues that their work is a valid occupation and deserves economic recognition in line with its democratic recognition and desirability.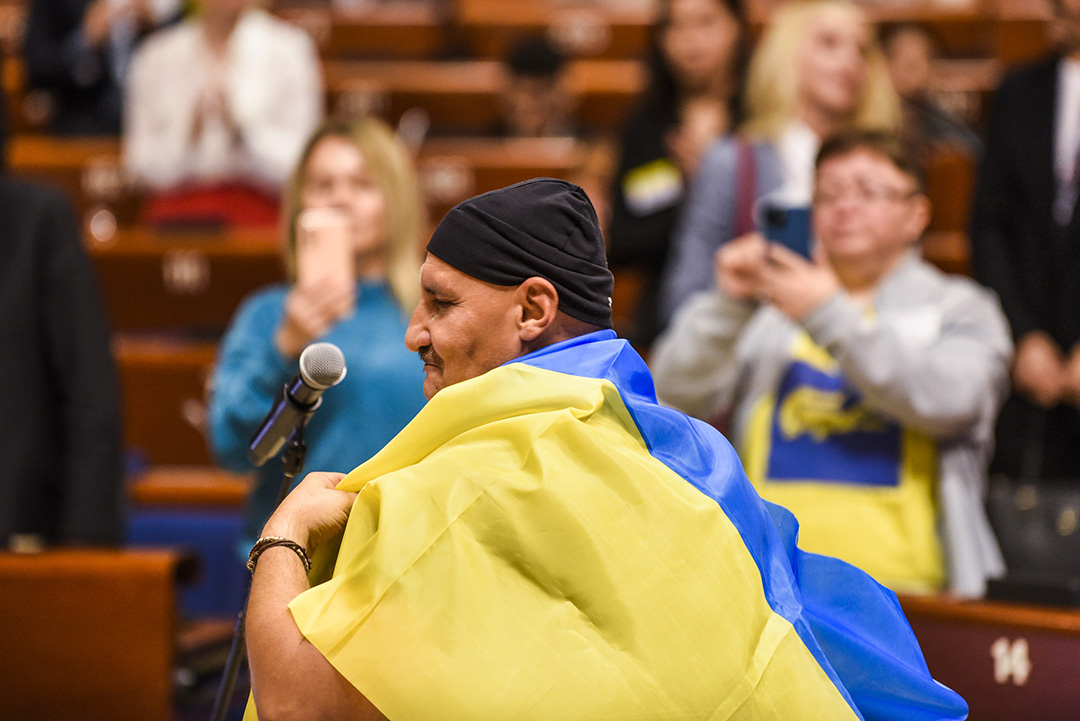 PHOTO © PASCAL BASTIEN – Courtesy of WFD 2022
The Russian invasion of Ukraine received plenty of attention at the forum, and was served up as an example of a failing democracy and the dangers of authoritarianism. It was joined by other stories and struggles to live up to the ideals of democracy.
Many initiatives to address them amounted to well-intentioned band-aids that are much-needed, yet unsustainable without eternal charity. Out of the many worthy programs presented at the World Forum for Democracy, the winner was an initiative from Zimbabwe by Astrea Justice.
The Changemakers Program received its due applause and continues to steadily take on the world.
The Changemakers Program was presented at the Forum Lab 9 on Protection for Activists and Human Rights Defenders on Tuesday 8 November, 2022.
Click here for more information about the Changemakers Program and its support modules for Human Rights Defenders.
Click here for more information about WFD 2022.
Click here if you would like to donate to the Changemakers Program.
Supporters of The Changemakers Program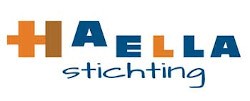 We would like to thank the Haëlla Stichting for their support of The Changemakers Program. Without the generous support and investment in positive change by organisations such as these, our work would not be possible.
We would also like to give a special thank you to all of our donors who choose to support our Changemakers by sharing what they can.
Together we can Make Change!
Donate Now
Your one-off or monthly donation makes a big difference!
Follow us
Follow us on YouTube, Instagram, Twitter, and Facebook
Collaborate
Interested in collaborating or volunteering?