The Hague Innovators Challenge 2020
Apply Now for the Innovators Challenge 2020!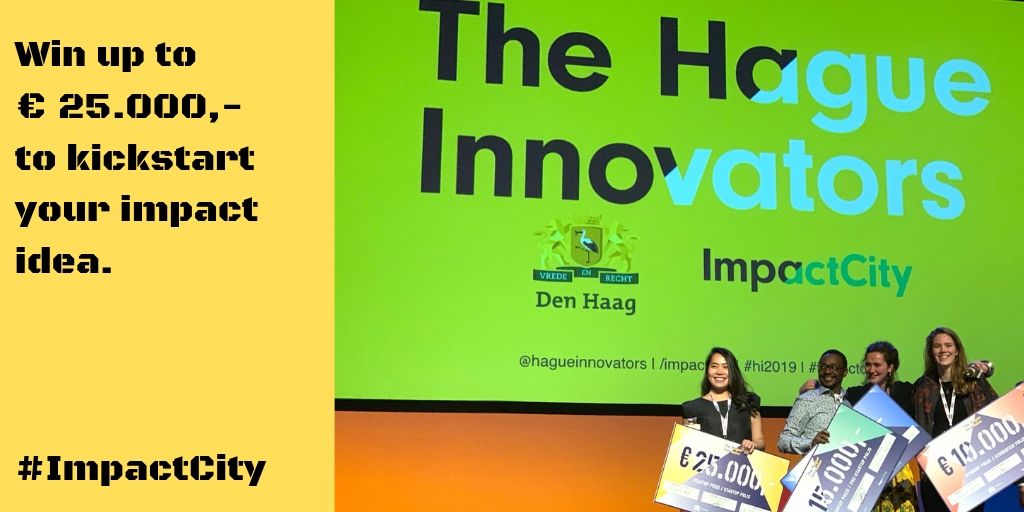 DO YOU HAVE AN INNOVATIVE IDEA THAT SOLVES A GLOBAL CHALLENGE? JOIN THE HAGUE INNOVATORS CHALLENGE FOR THE CHANCE TO WIN A PRIZE BETWEEN € 2.500 AND € 25.000.
The world is becoming more complex and societal issues are increasing on a global scale. At the same time, issues such as safety, energy, climate, and food have a huge impact on the lives of people living in cities.
In order to create new solutions for global issues, space and freedom to experiment is required. For this reason, impact city The Hague is challenging startups, scale-ups and students with the Hague Innovators Challenge to come up with fresh, ground-breaking ideas to tackle global issues.
These innovative solutions are focused on solving the challenges as described in the UN Sustainable Development Goals (SDGs). The best concepts, products or services will win prizes from € 2,500 to € 25,000. Register before October 17th.
To find out more visit: www.impactcity.nl/the-hague-innovators-challenge/
Who can apply?
Startups, scale-ups and students from The Hague region. Are you not yet based in The Hague? Then we need a declaration of intent, which shows that you will settle in The Hague if you win a prize. We challenge all participants to enter into and demonstrate collaborations with other sectors or professionals in The Hague.
What can you win?
The Audience prize of € 2.500,
the Student prize of € 10.000,
the Startup prize of € 15.000,
or the Scale-up prize of € 25.000.
DEADLINE: 17 OCTOBER 2019
Ideas can be submitted until the 17th of October 2019. During ImpactFest 2019, three nominees are selected per category. The nominees participate in the continuation of the challenge until the final on 21 January 2020.
Apply for the challenge by sending an email to info@impactcity.nl with the subject 'Hague Innovators 2020'.
Important dates
September 2 – October 17: Registration open for Hague Innovators Challenge
November 5: ImpactFest nominees announced
December 18 – January 9: Audience gets to vote on favorite nominee
January 21: Winners of The Hague Innovators Challenge announced at Big Improvement Day
For more information please contact Steven de Kruijf:
steven.dekruijf[at]denhaag.nl